Beginner Exercise Routine Routine Routine
From the title you can see that the most important thing about a beginner exercise routine is the routine. It is necessary to get the exercise habit. It does not matter at this point what kind of exercise you do.
What is important is that you get into a habit. Set a modest goal such as 30 minutes 3 times a week. Find a chart or calendar to keep up with your results. If you walk 6 days this week, you are a week ahead. If it rains and you only walk one day, you will have to walk 5 days next week to make it up. Most people say it takes about 25 to 30 times before a habit is formed. At 3 times a week this will take about 10 weeks. Most people do not keep up with how often they exercise, and most people fail to make exerecise a habit. I can not emphasize enough the emportance of keeping simple records. The keeping of the record itself will strengthen the exercise habit. Below is a listing of some beginner exercise routine ideas that will remind you to keep on track. Print this List and some of your own ideas to help you give yourself some cues. Just seeing this list should be a cue.
Beginner Exercise Routine Cues and Prompts
At Home
Lay out cloths the night before for early morning activity.

Keep shoes for activity in several places , the car, the garage, the van, at work.

Always keep an exercise bag packed and ready to go.

Wear workout clothes around the house.

Turn the TV off before and after meals

Do not read paper or email until you have exercised first.

Freeze containers of drinking water to take with you.

Post notes to yourself reminding you of your new goals
At Work
Schedule activity and stretch breaks.

Write on your personal calendar about activities after work.

Place pictures of yourself and others exercising.

Wear comfortable cloths so you are ready for exercise on any free moments.

Keep exercise bands or barbells handy.
During Leisure Time
Spend time with active people

Always carry shoes and cloths for activity in the car.

Make Reservations at hotels that have fitness facilities.
You may find it easier to print this form in pdf. :
Beginner Exercise Routine Cues and Prompts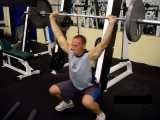 5 Reasons Why A Beginning Exercise Routine Should not includeTreadmills and Elliptical Machines
Still want more information how about this free
beginner exercise routine book about training and nutrition.