How Many Calories in Strawberries?
br>
Like most fruits, there are some calories but not a lot of calories in strawberries. There are only about 4 calories in a medium size strawberry and only about 50 calories in a cup of sliced strawberries.
As you can see from the chart and may have heard, strawberries are a healthy food.Just be careful because the same cup serving is 245 calories when they have been sweetened and frozen. Also be careful because many people associate strawberries with cream which is not considered a healthy food. Why not get a big bowl of strawberries and put a little bit of milk or yogurt on them.
Another way to eat strawberries is to get a bowl of strawberries and add cereal and milk.
OK, I have a confession to make. I did not like strawberries when I was young. Why? Because they were pink when added to ice-cream. All the girls seemed to like it for this reason so I did not like strawberry ice-cream. I began to like them when I found some that were wild. Now for a boy eating wild food is cool, so I changed my mind. If you have a small boy, do him a favor and do not mention that strawberries are pink.
Chart of Calories in Strawberries
Strawberry Raw
Strawberry Raw
Strawberries Raw Sliced
Strawberries Frozen Sweetened Sliced
measure
1 Large 1 3/8" diameter
1 Med 1

1/4" diameter
1 cup
1 cup
weight (g)
18
12
166
255
water (%)
92
92
92
73
calories (kcal)
5
4
50
245
Protein (g)
Tr
Tr
1
1
Total fat (g)
Tr
Tr
1
Tr
saturated fat

(g)
Tr
Tr
Tr
Tr
monounsaturated fat

(g)
Tr
Tr
0.1
Tr
polyunsaturated fat

(g)
Tr
Tr
0.3
0.2
Cholesterol (mg)
0
0
0
0
Carbohydrate (g)
1
1
12
66
Total dietary fiber (g)
0.4
0.3
3.8
4.8
Calcium (mg)
3
2
23
28
Iron (mg)
0.1
Tr
0.6
1.5
Potassium (mg)
30
20
276
250
Sodium (mg)
Tr
Tr
2
8
Vitamin A (IU)
5
3
45
61
Vitamin A (RE)
1
Tr
5
5
Thiamin (mg)
Tr
Tr
0.03
0.04
Riboflavin (mg)
0.1
0.01
0.11
0.13
Niacin (mg)
Tr
Tr
0.4
1
Accorbic acid (mg)
10
7
94
106
Vitamin E (mg)
0.05
0.03
0.48
0.59
To print this chart or to save it as a file for your personal use click on the pdf version:
Calories in Strawberries Chart pdf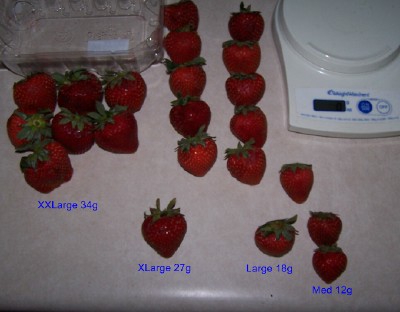 My Favorite Low Calorie Strawberry Recipe
Most of the time I eat strawberries raw or just mixed with cereal, yogurt, oatmeal or whatever I am eating, but when I cook this is the low calorie strawberry recipe that I use.
Ingredients:
2 cups fresh strawberries sliced.
1 box sugar free vanilla pudding (type that has to be cooked)
2 cups water
1 box of sugar free jello
Directions:
1. Place sliced strawberries in pie pan
( I do not use a crust which adds calories)
(As you can see, I also divide the strawberry dessert into single serve dishes so that I do not cheat on calories and can take them with me to work or wherever.)
2. Cook the pudding using water instead of milk....follow the directions on package, but it will not get thick.
3. Remove from heat and add jello mix (no extra water)
4. Pour mixture over strawberries
5. Chill and serve. ( I do not use fat -free cool-whip...your choice.)
DahDah.........