Walking Pedometer Comparison


In doing a walking pedometer comparison, first consider the main reasons that you want a pedometer. This review is about finding a walking pedometer that is best for you not about finding the best pedometer. All of these pedometers are great. They all work fairly well. Usually the most inefficeint part of the pedometer is the person estimating things such as how many feer per step they take. Probably the most important think to concider is: Will I have it with me when I need it. If you only want a pedometer when you take an official walk and always wear the same shoes, then a pedometer that fits on your shoes may be best. If your cloths do not usually have pockets but you wear a watch, then a watch pedometer may be best. If you are like me and usually have pockets, then the pocket pedometer may be best.

Ok, I am going to start with the pedometer that I choose.




Omron HJ-113 Digital Pocket Pedometer

Product Description:

This pedometer can be carried in a pocket, bag or attached to a belt. It has a large display with a clock and it measures steps, aerobic steps, minutes, calories used and miles. One can see a week of exercise with a seven day history. This pedometer automatically resets at midnight so it is ready to go every morning.

Pros:

Easy to carry it can be attached to a bag or to a belt with extra safety strap so it will not be lost.

Can also just be put in your pocket where no one sees it.

It automatically resets at mid night

Records steps, miles, aerobic steps, calories used, and has a clock.

Simple with no computer, yet has a 7 day history.

advantages over HJ-112 are: safety leash,7 day aerobic steps and miles storage, slightly smaller, measures fat grams.

Cons:
If your cloths do not have pockets, you may have to clip it on.
Some prefer a watch or shoelace attachment


Who is this for?
This is for the person that has clothing with pocket, a pocket book or something they alway have when they walk. It is for the casual walker as well as the runner. It is for keeping with you all day long to try and get your 10,000 steps in.

Who is this not for?
This is not for the runner who does not have pockets and may be annoied at having something attached to their waist. It may be a little difficult to read while running. It does not give speed, and pace.

Mike Keenan Says (thats me):

This pedometer is perfect for me. At 59 I love to run, but not too fast. Distance is more important than speed. I hope to get more 10000 step days in the future; I am a jogger and walker. it is so much fun. I can get my exercise in at any time and at any place. This is perfect for someone with a busy schedule. Every time I find myself waiting....I get up and add a few more steps. My wife is not a runner, but she is really jealous of this toy.


see other reviews:

Omron HJ-720ITC Pocket Pedometer with Advanced Health Management Software

Product Description:

This pedometer includes the Omron Health Management Software which allows you to analyze your results on a computer. This software provides a blood pressure and pulse graph that lets you see how your values are trending over time. A morning vs evening comparison graph tracks your morning and evening systolic and diastolic blood pressure and heart rate. You can also view your most common values and identify variations by time frame with the frequency distribution graph. The software is simple to use, and it supports multiple users. With just one click, you can download data via the HJ-720ITC's USB connection and see graphically displayed measurements on your computer screen in seconds.

Pros:

Includes Health Management Software with USB connection

Large display with clock

Can be carried in pocket or bag

Measures steps, aerobic steps,calories and distance

Software tracks days, weeks, months and years of esercise

Automatically resets at midnight so it is ready to go in the morning (Just put on your pants)

Includes detachable belt holder, security strap, clip, cable and CD-ROM
Cons:

If you do not use it regularly, you may lose it

Does not give speed

Must clip it or put it in your pocket
Who is this for?
This is for the person that wants to get in more walking exercise but has trouble working it into their schedlue. This is for the more casulal walker and runner who wants to exercise on a regular basis, but may want to walk or run in different locations or with different shoes. This is for the person that wants a simple device to know how they are doing at any given time of the day ,but may want to record their results every now and then on the computer to see how they are doing over time.
Who is this not for?
This is not for the serious runner who needs to know their speed at all times. It is not for those who would be better off keeping their pedometer on their shoes so they do not lose it.
This is what Dan had to day:
I have not used pedometers much, but really like this unit for a number of reasons. First, it is quite compact and can comfortably fit in a pocket and not feel bulky (you can wear with a clip too or hang it from a cord off a belt). Second, it really seems to accurately count steps. I tried it a few times by counting 50 or 100 steps with the unit in my pocket and it seems to be right on target as a step counter. To measure distance, I walked a 100 feet a couple of times to set my stride. With the stride in place, the distance measure seems pretty accurate. I walked a known distance (about a mile and a half) and then looked at both the step count and distance. The distance was a little short, which meant I needed to make a slight adjustment to the value of the stride. I made the same walk again and got the calculated distance was exactly on target.
Conclusion: This is an accurate pedometer in terms of counting steps and estimating distance.
I also really like the software. You simply attach the pedometer to your computer....
see the rest of the review.
Casio Men's SGW200-1VCF Pedometer Resin Strap Watch

Product description:
This pedometer watch was made for runnig, so might not be as good for walking. Works great for a walking workout, but does not do as well on an all day basis. This Casio Watch (#SGW200-1VCF) has a built-in pedometer to help keep tabs on distance, calories used, average pace, and number of steps. Other functions include a stopwatch and countdown timer, five daily alarms and a calendar, and a backlit display with Afterglow technology. Not only intended for runnig, this Casio pairs well with office and casual wear. Other fashion highlights include a brushed silver-tone metal bezel, a black resin case, and raised resin buttons. With reliable Japanese quartz movement and a black resin band with a traditional buckle clasp, this watch is water resistant to 330 feet (100 meters).

Pros:

1. Better Than a Pedometer - Get Accurate Results Every Time
2. Records: Steps, Miles, Stride Rate, Shoe Wear
3. Battery life 5 to 6 years
4. Waterproof, Lightweight .05 oz, Makes no noise
5. Stride Rate Feature is like having a personal coach, gives you feedback on every workout, helps prevent injuries,
6. Automatically tells you when to replace your shoes, never have to keep track of shoe miles again
7. Light weight

Cons:

A watch may be uncomfortable for some.
Is a black watch really your style.
If it is not your style, you will not use it all day long.
If you do not use it all the time, you may lose it.
Who is this pedometer for?
This watch is for those who prefer to wear a watch rather than something in their pocket or on their shoe. It is for someone who only needs a pedometer for running and not for walking.
Who is this not for?
Not for those who do not like wearing a watch. Not for someone who also needs a pedometer for walking.
M. Oshea says:
"Even without adjusting the settings for stride length, this watch was pretty much dead on right out of the box. It may be that the default settings are set for an average person. I'm 5'8 and went on a run on a known distance course. When in the mode that showed step count, it picked up every step.
Seems to be geared for running, on page 55 of manual it says that the watch is designed to count steps while you are running. It will not count steps correctly while walking.It seems to work fine for steady walking while your arm is moving. But breaks do "confuse" it a little.
My experience with pedometers is limited. For running though, it works well.
Have used it for a few months now, very accurate. Used it on a 2 mile marked course and it was right on. Figured out how to switch between displays, so previous post was corrected. Overall a pretty good alternative to the GPS and/or foot pod setups
.
For more reviews click here.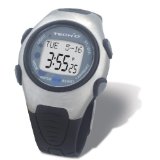 Tech 4 O Accelerator Women's Fitness Watch

Product Description:

Whether you're a backpacker, an avid runner, or simply looking to count your doctor's recommended 10k steps a day, this watch fits the bill. Advanced accelerometer technology provides highly accurate readings of speed, distance, and caloric expenditure via a simple wrist watch sensor, eliminating the need for funny looking foot pods or belt clips. Accelerometer technology is 95+% accurate, and much more dependable than traditional pendulum based pedometers. GPS-based running products are expensive, complicated, and are not reliable for indoor training or under heavy tree cover. The Accelerator Series is the perfect combination of accurate readings, simplicity of use, and stylish design.

Pros:


Stylish women's fitness wristwatch with built-in accelerometer for gauging distance

Produces highly accurate readings of user's speed, distance, and caloric expenditure

Adjustable step counter accounts for walking style, stride, terrain, and pack weight

Built-in stopwatch and countdown timer; powerful 7-day, 10-week memory

Clock with 12/24-hour time, date, and daily alarm; 1-year warranty
cons:

A watch may be uncomfortable for some.
Is this watch really your style.
If it is not your style, you will not use it all day long.
If you do not use it all the time, you may lose it
Turns off after 30 minutes of not using
Whos is this for?
This watch is for those who prefer to wear a watch rather than something in their pocket or on their shoe. It is for someone who only needs a pedometer for running and serious walking.
Who is this not for?
This watch is not for those who do not like to wear a watch while running. It is not for those who might lose the watch if they do not wear it often.
M. roper says:
"First of all, I do agree that calibrating the pedometer is tough and frustrating. But, once you get it done right it's wonderful and accurate. There is an online tutorial that is helpful...I also called Silva directly and they were courteous and helpful.

On reviewer wrote that if over counts steps due to its sensitivity. There are 5 levels of sensitivity so you can find your right setting. The pedometer does not always count step by step...the pedometer can "differentiates between ancillary movements and actual steps. This feature provides users with the most accurate results by delaying calculation until it has registered 10 steps." So, this is probably one reason one reviewer thought it was over counting.

Just like any new gadget, there are always quirks to figure out. For me, it was worth persevering and getting the settings right. When you get your watch, open the packages and put the direction aside and head straight for the online tutorial ...



for more reviews:
Update - Consumer Reports Pedometer Comparison
I just read this in the February 2012 Consumer Reports
They liked a pedometer similar to the one I liked: Omron HJ-112 GOsmart™ Pocket Pedometer
Do not wait. Get started counting your steps.
Did I mention that Consumer Reports also rated the best pedometer cell-phone apps. For Android they suggested Accupedo and for iPhone Pedometer Pro GPS+. For GPS Watches, Nike+ SportWatch GPS
ran neck in neck for the best pedometer watch.
---
Related Resources at Ideal-Weight-Charts.com

Need more information about:

Pedometer 10000 Steps Chart
Pedometer for Running
Where to buy a pedometer






---